Select a Sentry product below to view its online reseller websites

Column Sentry FIT Online Resellers
Column Sentry FIT is a revolutionary 4-sided column protector that fits – exactly – on your column.

Collision Sentry Online Corner Pro Resellers
Working like a traffic light to flash a warning, Collision Sentry is easy to install, self-powered, highly visible and reliable.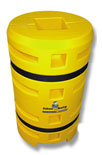 Column Sentry Online Resellers
Column Sentry column protectors cushion those big bumps, preventing expensive column damage.
Rack Sentry CONTOUR Online Resellers
Round edges and a slimmer profile reduce the footprint and increase the amount of rack clearance, while offering a secure fit to rack uprights.
Rack Sentry Online Resellers
Rack Sentry® rack protectors attach to your rack uprights, protecting them from the abuse from collisions with your forklifts.
Park Sentry Online Resellers
Park Sentry® parking collision protectors provide a new, attractive way to add a layer of effective protection around parking structure columns.
Corner Sentry Online Resellers
Corner Sentry protectors add a protective layer to your vulnerable industrial corners.
Concrete Wrap Online Resellers
Concrete Wrap adds a durable layer of protection around your existing round concrete columns, guarding both your column and vehicles from collision damage.
Guard Post Online Resellers
Sentry's newest product is a versatile portable bollard available for a wide variety of uses, indoors and out.