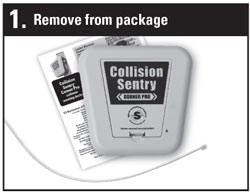 If there are any visible signs of product damage, contact Sentry or your authorized product distributor immediately.
To activate the Collision Sentry Corner Pro, install the three (3) "D" cell batteries included in the package. Remove the door on the front of the unit and insert the batteries in the direction indicated on the battery box. This activates the unit. The LED lights will begin blinking as the device becomes oriented to the environment. During this warm-up period, the blue low battery indicator also flashes.
Note – Always activate the unit prior to installation. Insert the batteries, close the door, and install the unit to the upright.
The ideal placement for the unit is at a height between 7' and 9' (2-2.75 m). Install with the mounting tabs at the top.The lights and sound will continue to react until 3 seconds after the motion discontinues.
Use the integrated magnets on the back to "snap" the unit to a metallic corner or rack.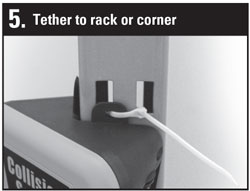 The included nylon tether provides extra security when mounting the unit using the magnets. Using the tether is optional but recommended.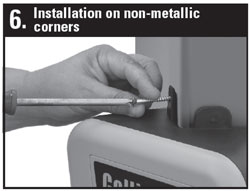 Use the integrated mounting tabs to install the unit directly to non-metallic surfaces.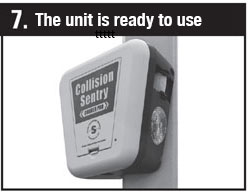 The product needs about 20 seconds to acclimate to the new environment and "learn" its new surroundings. During this warm-up, the warning lights will flash. The lights will go solid red for four seconds at the end of the warm-up period. This indicates the product is ready to use.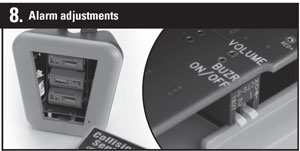 Alarm adjustments:
Collision Sentry Corner Pro ships with the audio alarm activate and set to the low volume. This alarm can be adjusted using the switches found inside the unit and located below the battery compartment. (See illustration.) There are two switches used for adjusting the volume – a high/low switch and an off/on switch.
Remove the door on the front of the unit.
Alarm switches are located below the battery compartment.
Adjust the switches to the desired setting.
Reinstall the battery door.
Unit is now ready for use.
Low-Battery:
Testing shows battery life of the three (3) "D" cell batteries to be a minimum of twelve (12) months. *Energy values are based on the unit operating on the low volume setting. Operating on the high-volume setting could alter the length of the battery life.